GAIN IN ADVANCE CREATIVITY AND NEEDS.
IT'S OUR OWN FIGURE WHICH WOULDN'T STAY ON THE SAME PLACE

As it were high like the air,
and like resolving secrets of the Universe,
imagination changes from impossible to
possible as soon as light velocity・・・
violently, and strongly.


 
---
Invitation to CAD / CAM division where our brains are concentrated.

CAD:Computer Aided Design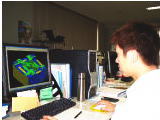 People have entrusted a pen to their ideas as ancient Egyptians had described in papyrus the origin of country for future generations.
In those days when those had been establishing their history, science, economy・・・long years passing, nowadays we came to abundance in our hands.
Mold society, using a fluency of electricity,light has arrived at the era for form. Our Mold society for making sources of forms, similarly.
takes a direction to high tech era. taking it sooner in advance,
using computers for thinking about plans through their cathode-ray tubes,we input their data.
We design dies to satisfy customers needs on Q.C.D.S.with VE and VA. aiming concurrent engineering.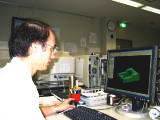 CAM:Computer Aided Manufacturing

Changing two-dimensional space's data to three - dimensional one,
changing a plane to a cube, sending information to machines with optical fiber, we operate them. It's in our figure that we have a creative work as a theme of human knowledge.
 We have already installed three dimensional CAM/CAM UG for solid data.